He Who Dwells Above
Many aspects of Coast Salish spiritual life have been kept secret, although anthropologists studying the region have provided some insights into sacred practices and the activities of ritualists. Spiritual powers associated with healing were thought generally to be given by the creator (called He Who Dwells Above by some) to an individual who, through prayer and fasting, had received these powers, songs, spells and chants. Sickness and malaise were seen as a spiritual imbalance, the loss of one's soul. Other periods of spiritual vulnerability were so-called life-crisis periods, such as puberty, marriage or death, when people might succumb to spirits or evil-minded individuals. To usher the afflicted through life crises, an individual could fast, pray, and bathe. If their family had the inherited privilege, they could also stage cleansing rites that included the use of masks and rattles, the stuffed skins of weasels, or dolls that would mysteriously move on their own.
Seated Human Figure Bowls
Sixty-four stone bowls with human and animal features have been found in the northern Puget Sound basin, on the southeast coast of Vancouver Island, on the mainland and islands of Georgia Strait and along the Fraser River as far east as Lillooet. These bowls have certain features in common, such as a sitting or kneeling human figure holding a bowl (a depression in the stone), but each bowl is unique in its detail. Some figures appear "skeletalized," with protruding backbones, shoulders and ribs, and have a headdress or hair ornament. Many bowls have secondary figures in the forms of snakes, frogs and birds. The bowls range in size from 3½ inches to 21 inches in height.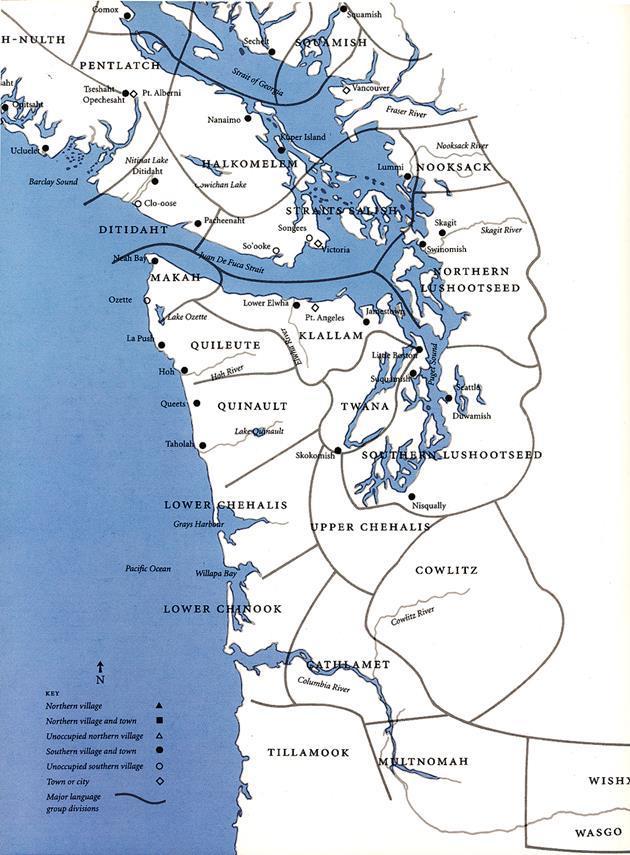 Map of Salish Territory
© Seattle Art Museum
Materials
Most of the bowls, including this one, are made from soapstone (also called steatite). Steatite occurs naturally in boulders along the Fraser River above Hope, British Columbia. Soapstone is a metamorphic rock composed largely of talc and magnesium. It varies in color from white to gray to green. It is relatively soft but hardens on exposure to air or fire. Because of its resistance to heat, it is used in modern times for fireplaces and to insulate electrical components. It has been used by Native people for carving bowls, pipes and ornaments since at least 4,000 BC, during the Archaic period, in the southeastern United States. Similar stone has been used for beads and seals in ancient civilizations and in places such as Africa and India.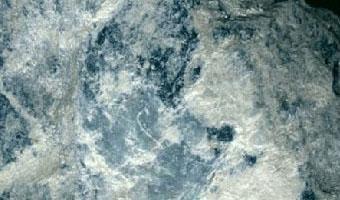 Steatite (soapstone) in its raw mineral form
Image courtesy of www.mineraly.sk; licensed under Creative Commons
Uses
When living descendants of the people who made these bowls were asked by anthropologists about the uses of the bowls, most did not know because the bowls were probably not in use in the late historic period, 1850 to 1950. Based on the types of imagery on the bowls and the use of special containers in modern times, some Native consultants thought that these unique containers were used by ritualists, or shamans, who were considered to be intermediaries between humans and the spirit world. Although traditions differed among the coastal Native groups, shamans were called upon to control the weather, foretell the future, effect success in hunting, to rid the sick of malevolent spirits, and to usher people through times of change and crisis. The bowls were possibly part of female puberty rites, with the depression holding special liquids or paints used to cleanse and purify young women.
Techniques
Early in the archaeological period known as the Coast Development Stage (5,500 BP to the late 1700s AD), pecking and grinding technology replaced methods of flaking stone. This technique involved pecking a stone with a hammer stone and slowly wearing away the surface little by little by grinding the stone. The process is laborious, but it allowed hollow forms like bowls to be made. We don't know how many more bowls might be under the earth or hidden on its surface, but it is likely that these stone bowls were made in small numbers, possibly because of the time involved to create one and because their uses were ceremonial rather than utilitarian.

Precisely dating these bowls has been difficult because only a few have been found in undisturbed sites, while many others have been located by chance near the ground's surface. However, three bowls were discovered during an archaeological investigation at a site that has been reliably dated to 350 BC to AD 200. The Marpole site (Marpole is also the name of an archaeological period) is located at the mouth of the Fraser River in Vancouver, British Columbia.

The contemporary Salish artist Luke Marston has been inspired by these old bowls, but he uses a synthetic material instead of soapstone.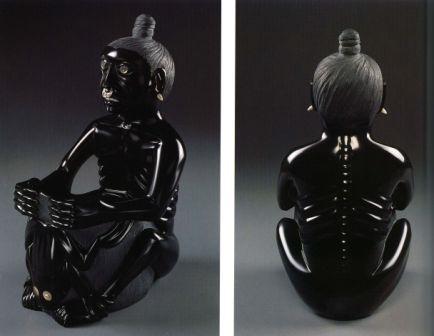 Shaman's Bowl, 2003, Luke Marston
Photo: Janet Dwyer
© Luke Marston
Of Interest
Like many nations, Canada has passed laws that restrict the purchase and sale of cultural treasures. These laws have guidelines that in some cases do not apply to all artifacts deemed to be important by the descendants of their makers. Recently, a stone bowl in a private Canadian collection was going to be sold, possibly outside Canada. The Saanich Native Heritage Society and the Simon Fraser Museum of Archaeology and Ethnology worked together to purchase the work so that it would remain in Canada.