Other Decoration in the Palace
The ceiling fresco joined works that date from the construction of the palace by Andrea Palladio (1508-1550) between 1548 and 1552.

Family portraits of the first residents of the Porto palace were painted by Paolo Veronese, one of the leading Venetian painters of the time. While this portrait of Livia has been trimmed at the sides, the original conception shows the figures occupying fictive architectural niches so that they would look like sculptures come to life. Veronese helped establish this playful illusionism as part of the decorative artist's task.

At the same time that Tiepolo was commissioned to paint the ceiling fresco, his son and assistant Giandomenico was charged with making six frescoes for wall niches, commemorating events in the history of the Porto family. The program of wall frescoes and ceiling painting together would thus mark specific family accomplishments over the centuries and confer a lasting celestial reward for those achievements.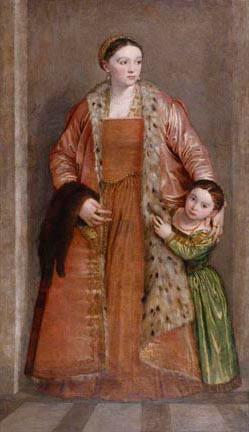 Portrait of Countess Livia da Porto Thiene and her Daughter Porzia, ca. 1551, Paolo Veronese
The Walters Art Museum, Baltimore, Acquired by Henry Walters, 1921, 37.541
Transcending Time
Tiepolo's ceiling was commissioned to complete the decoration of the first floor of the Porto family villa in Vicenza, and specifically to glorify the family's military prowess. Rather than commemorate particular historical events, Tiepolo painted an allegory whose message is that fame, earned through earthly accomplishments, transcends time -- the survival of the fresco for almost 250 years attests to that message.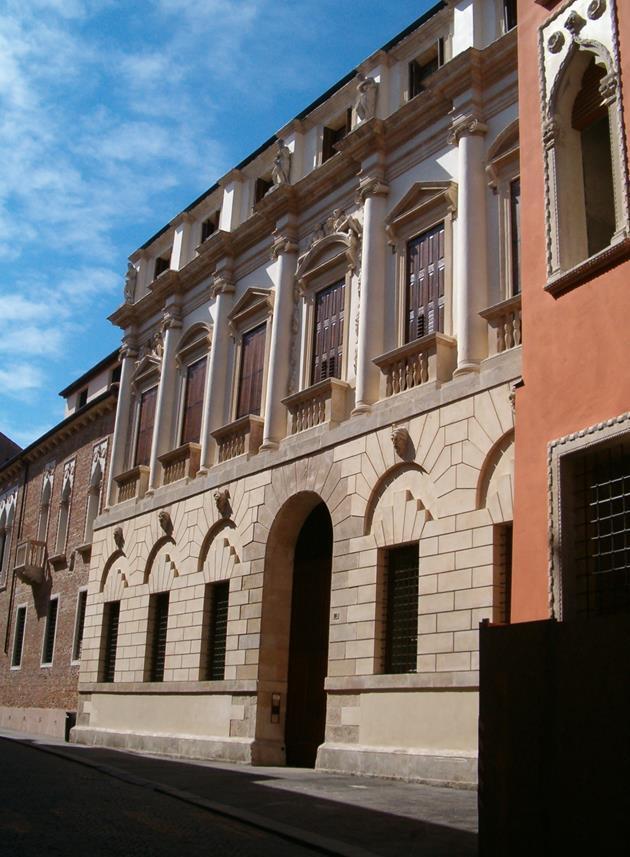 Palazzo Iseppo Porto, Venice, 2007
Photo: Marcok, licensed under Creative Commons
Symbolism of the Painting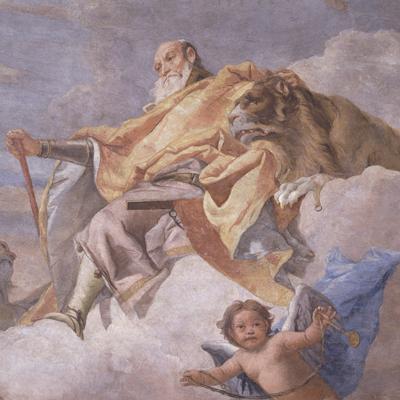 Photo: Eduardo Calderón
Detail of Valor, 61.170
For many years, the painting was described as the apotheosis, or elevation to the rank of a god, of a member of the Porto family, thought to be the elderly man in gold. But a recent interpretation is more plausible. The gold robe and accompanying lion fit the prevailing imagery for Valor, described in Cesare Ripa's Iconologia (1611) as an "aged, virile man wearing gold, in whose hand is a laurel wreath and a scepter; his left hand caresses a lion" (Beverly Louise Brown, Giambattista Tiepolo: Master of the Oil Sketch. Milan, New York, and Fort Worth: Electa/Abbeville and Kimbell Art Museum, 1993, 279-80).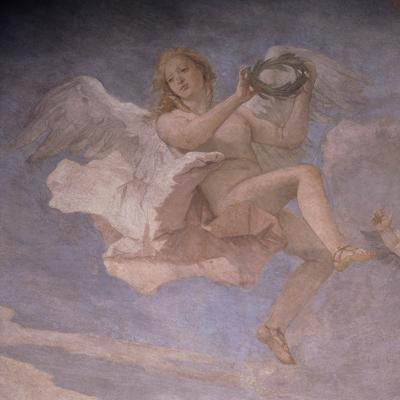 Photo: Eduardo Calderón
Detail of Victory, 61.170
The only detail that is missing from this description is the laurel wreath, which here is held by the uppermost figure of Victory, as she symbolically crowns Valor.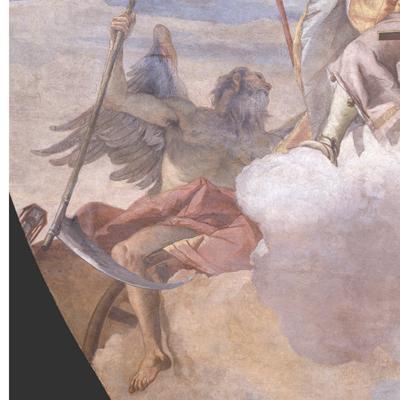 Photo: Eduardo Calderón
Detail of Time, 61.170
At the lower left, in the shadows, the frustrated winged figure of Time is vanquished, his scythe turned upside-down. In the final fresco, a putto at the right playfully swings a watch, signaling that time's destructive powers are useless here.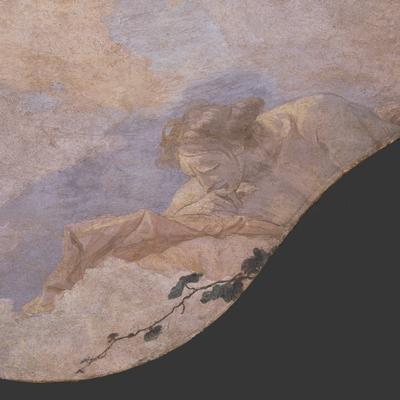 Photo: Eduardo Calderón
Detail of Ignorance, 61.170
The grimacing figure at the bottom edge, shown with ivy and bats flitting nearby, is Ignorance.