Related Objects in SAM's Collection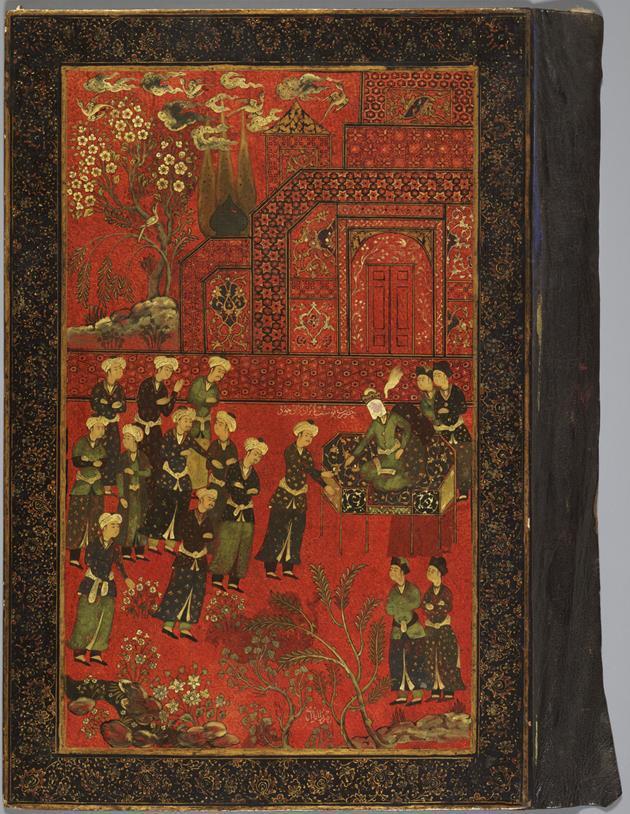 Book Cover: Joseph and his Brethren, 18th century, Persian, 42.12.2
Photo: Paul Macapia
Religion
Islamic art in general involves a distinction between secular and religious imagery. In the religious realm, artworks are generally aniconic; that is, they often do not include representations of humans or animals. In the secular realm, however, the distinction between the religious and profane is blurred, with religious subject matter often found in popular literary works. In fact, religious symbolism and interpretation permeates much of the literary output of the Islamic world, and nearly every subject has some element of religious symbolism. For example, Persian literature abounds with love stories in which star-crossed lovers seek each other across space and time. These love stories can also be understood as allegories in which the lovers are on a mystical journey toward union with God rather than with one another. This mystical meaning was quite common to medieval and early modern literature in the Islamic world, as many of the most famous writers and poets were adherents of a mystical practice and understanding of Islam known as Sufism.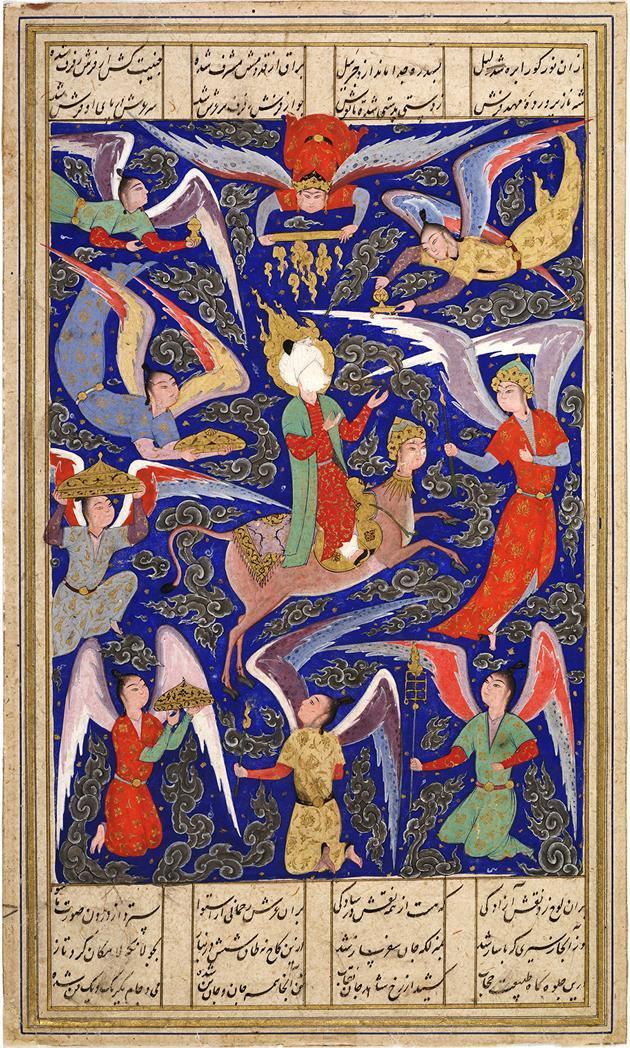 Mohammad's Ascent to Heaven, 16th Century, Persian, 47.96
Photo: Paul Macapia
Art and Literature
Islamic writers in the Middle Ages and early modern period (ninth to nineteenth centuries) practiced a number of prose genres—history, biography, and travelogue among them—but poetry in the Persian language was considered the highest form of literary accomplishment. Persian was the language of high culture in the Islamic world, and many royal courts used Persian as their official language. Poetry was associated with venerable Arabian oral traditions as well as the poetic quality of the Qur'an, and mastery of this genre in Persian or Arabic required extensive knowledge of languages and texts. Poets were important members of royal courts, holding much higher positions than painters, for example. In the relationship between art and literature in the Islamic world, the word always took precedence over the image. Only in the modern period do visual artists achieve the same level of fame and fortune as their literary counterparts.

In Islamic manuscripts, images serve mainly to illustrate the texts provided, which does not mean that the images were not enjoyed as artistic creations themselves or that the work of painters was completely derivative. This situation simply indicates the working conditions painters faced in the Islamic world. As an adornment to the excellence of Persian poetry, Persian painting achieved great fame in the visual arts. And like poetry, Persian painting was exported across Islamic lands, with famous poets and painters collaborating to create luxurious, lavishly illustrated literary manuscripts.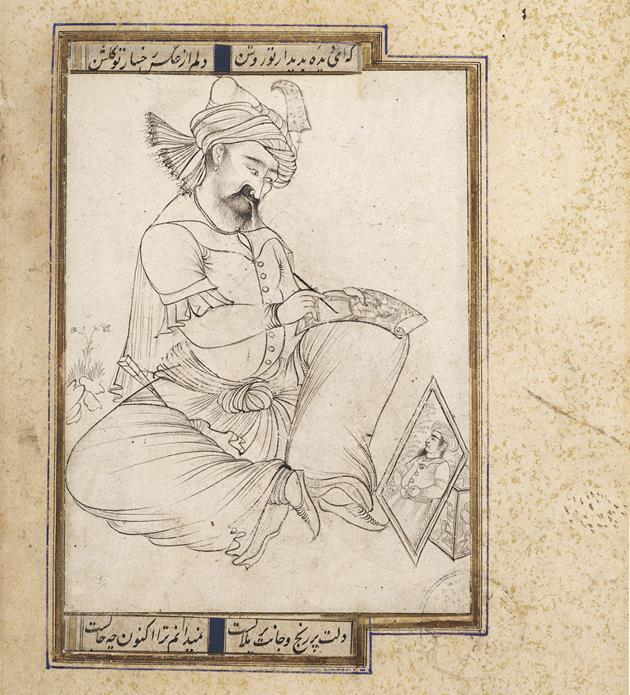 Miniature: Line Drawing of Artist at Work, ca. 1600, Persian, 62.205