Bierstadt Promotes Puget Sound
No American painter of the nineteenth century was as skilled a marketer of his paintings and his artistic persona as Albert Bierstadt. He regularly built interest in new works among members of the art press and potential buyers by teasing them—allowing them, for example, to see the sketches that might become large, finished pictures—or by inviting them to see works in progress in his studio. No doubt it was part of his well-planned marketing effort that Bierstadt chose to work on this grand canvas, Puget Sound, not in his own studio, in his home some distance outside New York City, up the Hudson River, but in the Manhattan studio of an artist friend, in a place where Bierstadt's progress on the work could be easily seen by visitors.

It seems from accounts of the critics who saw the painting as it was unveiled that Bierstadt may have represented it as a true-to-life depiction of Puget Sound, a view based on his own experience there. Yet, in truth, he probably had not been to the region, since his documented travels in 1863 place him no farther north than the lower Columbia River in the Oregon Territory, on what had been a brief visit to the Pacific Northwest. It is also possible that viewers of the painting simply assumed that this artist, so well traveled on the western frontier, surely had seen the remote place that he painted.

Bierstadt must have known that a canvas so large and so dramatic as this one was sure to be noticed in any public exhibition, and he unveiled it publicly at the first opportunity: in December 1870, at the monthly exhibition and reception at the fashionable Union League Club in New York, long a noted venue for showings of new work by New York's leading artists. Bierstadt was a prominent member of the Union League Club and an admired friend of the monied and cultured men who were the club's members.
A Commission or a Lucky Sale?
The first documented owner of Bierstadt's Puget Sound was Abiel Abbot Low, who had the painting in his collection by 1872. Low was one of the wealthiest men in New York, an importer of tea and other products from China, owner of a line of clipper ships dispatched to the Far East and the West Coast of the United States and a noted collector of American art of the time. It is possible that this grandly scaled painting was a commission from Low, for it is hard to imagine that Bierstadt would have embarked on such an ambitious undertaking without some assurance of a sale. As a collector of contemporary painting, Low would almost certainly have relished owning a canvas by Bierstadt, especially if the subject represented a region of the country where he, Low, had business interests. Once the novelty of Bierstadt's western subjects wore off among East Coast viewers—and it did fairly rapidly, by the end of the 1860s—the principal enthusiasts for Bierstadt's canvases were investors who had financial interests in the western regions—California railroad magnates Leland Stanford and Collis Huntington, for instance, and other men of means and enterprise like Abiel Abbot Low.

Bierstadt did not shrink from the challenge of painting an area of the western United States that he likely had not seen—a landscape that he only imagined from his brief experience in the lower Columbia River region of the Oregon Territory, where he had been with Fitz Hugh Ludlow in 1863. Whatever the circumstances surrounding the sale of the canvas to Low—either it was a commission or a lucky match of picture to patron—the painting ultimately landed in the hands of a man who was connected to the Pacific Northwest by virtue of his shipping business, as few others in America could have been in the early 1870s.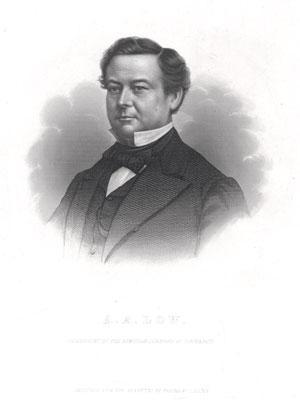 Portrait of Abiel Abbot Low
With permission of the University Archives, Columbia University in the City of New York