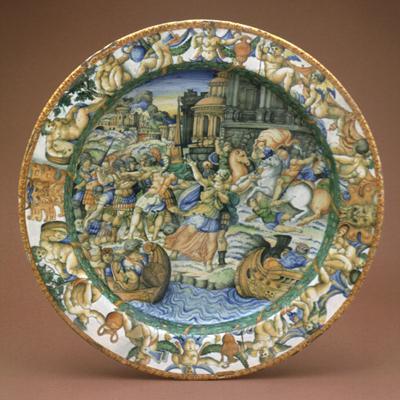 Plate, ca. 1560, Fontana Workshop, Italian, Urbino, 56.268
Maiolica techniques continued to spread as potters traveled throughout Italy. Many settled in and around Urbino, where a decorative style called istoriato developed. This plate was created in the famous Fontana workshop in Urbino. It was probably designed by the artist Battista Franco (ca. 1500-1561).

This plate illustrates the mythological story The Rape (Theft) of Helen, from a poem written in Greek by Colluthus, an Egyptian poet who flourished in the late fifteenth and early sixteenth centuries. The narrative recounts when Eris, the goddess of discord, arrived uninvited at a banquet held by Zeus. Angry that she had not been included, she threw a golden apple (the Apple of Discord) into the festive crowd. The apple was inscribed "For the fairest one." Three goddesses claimed the apple: Hera, Athena and Aphrodite. Zeus was unwilling to judge which of the three was fairest and declared that the Trojan prince Paris would make the judgment. Each of the contestants attempted to bribe Paris: Hera promised to make him king of Europe and Asia, Athena offered wisdom and skill in war, and Aphrodite offered the love of the world's most beautiful woman, Helen of Sparta, wife of the Greek king Menelaus. Paris awarded the apple to Aphrodite and won the fair Helen, but also the animosity of the Greeks. The Greek campaign to retrieve Helen from Paris at Troy is the mythological justification for the Trojan War.